Best Wooden iPhone 5 Cases
Posted by matthewsimpso on November 20, 2012
There's something very classic and stylish about wooden phone cases: it's like old technology meets new. Depending on the type of wood (or if the case is even real wood), there's a variety of styles and colors for pretty much everyone. We've assembled a list of the standout wooden iPhone 5 cases from the biggest and smaller case-makers. We have separated out the 'real' wooden cases from the synthetic 'wood-style' cases so that you can make sure you know what you're getting.
Real Wooden iPhone 5 Cases
1. Boxwave True Bamboo iPhone 5 Case
Price: $49.95 $29.95

Bamboo is one of those magical materials that seem to be able to do anything. It's used in foods, clothing, construction materials, fishing rods, and pretty much everything else. It's considered the hardest of the hardwoods (even harder than Oak). This versatile material that can do almost anything is the perfect pairing to the smartphone that can do almost anything. This durable Boxwave case is made from eco-friendly bamboo and slides on in two pieces. It's also lined with a soft, velvet fabric to keep your iPhone scratch free. It has openings so you can access all the ports, and a cutout for the camera. Boxwave also has the True Bamboo Minimus Case, which is similar except that it has a rubberized anti-slip bumper case on the outside. While it's a nice feature we felt it didn't fit in to the more natural looking regular Bamboo case from Boxwave.
2. Case-Mate Artistry Woods iPhone 5 Case
Price: $50.00

Case-Mate's luxurious case combines the visual beauty of a wood-backed design with the sturdy protection of a brushed aluminum frame. It gives you the impact protection of a heavy-duty case along with the tactile beauty of a wooden case. This is the most protective of the wooden iPhone cases, along with being one of the most visually striking.
3. Eimolife Wooden Bamboo iPhone 5 Case
$22.90
Instead of the two piece design of Boxwave's Bamboo case, Eimolife's case is a unibody design that your phone snaps quite comfortably into place. It features a zebrawood design that's no unlike Case-Mate's Artisan case, although the shade of wood is darker than both of them. The case features openings for all your ports, and unlike Boxwave's Bamboo case actually has an opening for the Apple logo to shine through. Some may prefer this design as you get to show off the Apple logo. In practice, though, it felt like the phone wasn't securely in place, as you could see the Apple shifting in slightly different positions as you used it. I checked to see if it left any scratches on my brand new iPhone 5, but it didn't. Also, the case is very light, lighter than any other case on this list. While that may be a good thing, it felt a bit…cheaper than the more luxurious cases mentioned above.
The price of this case also includes a free screen protector.
Not So Real Wooden iPhone 5 Cases
These cases have a wood design but are not made from actual wood. These include Zazzle cases, which use a high quality coloring process to embed their cases with high quality designs (you can read more about how zazzle cases work here).
1. Beautiful Wood Look iPhone 5 Case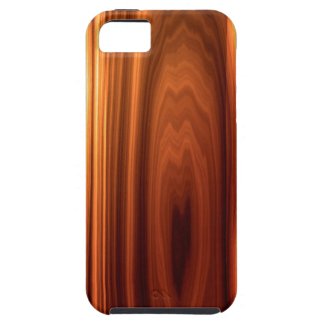 This case features a rich, warm looking wood with wood rings that looks so real you'd have to squint at this case to realize that it isn't real wood. Of course the benefit is that Zazzle's cases are designed to withstand environmental rigors better than actual wood. So if you want the look but also want a case that will last as long as you have your phone, then a case like this might be for you.
2. Chocolate Mahogany iPhone 5 Case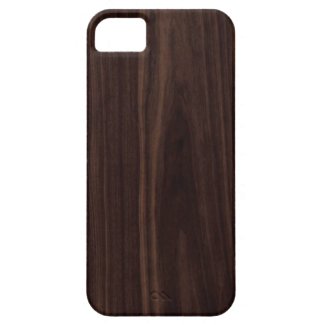 Care for a darker style of wood? This dark-grain wood pattern is a modeled after chocolate mahogany, which sounds so yummy I have to make sure not to eat the case. It has the same wood ring textured pattern as the "Beautiful Wood Look" mentioned above but in the style of high end Mahogany furniture. Zazzle's users are so creative that you can essentially find anything you can imagine in their store.
Buy Now at Zazzle
More Wood Patterned iPhone 5 Cases at Zazzle.com: