Best iPad Mini Cases for Kids
Posted by matthewsimpso on October 18, 2015
Best iPad Mini Cases for Kids
Welcome to Case Cafe's round-up of the Best iPad Mini Cases for Kids. Since the iPad Mini launched it has become an incredibly popular gift item…so much so that there's rumors it may replace the larger 10″ iPad as Apple's 'main' iPad. Another surprise has been the rise in popularity of the iPad Mini among children. The smaller and light-weight iPad Mini is more ideally suited to being a companion for children as an educational and entertainment device.
Another reason to get the iPad Mini for your child is that it may help them get a head-start in the new educational revolution happening in our world right now. Tablets are fast becoming the new teacher. Studies have shown their effectiveness in helping those with to learn skills in ways that conventional teaching methods can not.
Having a case that can keep up with your child can be tough. But there are several iPad Mini cases that can pretty much handle anything your child can throw at it.
3 Most Important Factors in Choosing the Best iPad Mini Cases for Kids:
Protection – Most of the cases on this list are impact resistant. Of particular note is EVA foam cases, which is a thick non-toxic material that is soft, flexible and heavily impact resistant.
Style – The shape and look of your iPad Mini case are important. Some of these cases are really creative and amazing in detail.
Build Quality – Having a case that can stand the day to day rigours of being a child's best friend is a tough test. Hence why there are many 'outdoorsmen' cases featured on this list!
1. Speck's iGuy Freestanding iPad Mini Case

Ratings: (out of 5)
Protection: 4.9
Style: 4.9
Build Quality: 4.8
Overall: 4.85
Speck's design on this case is amazing: it turns the iPad Mini into a child's best friend. The legs and arms give the case a life-like appearance while also serving to stand up the case (for watching cartoons and movies), and the arms become handles that your child can easily pick up the iPad Mini and carry it around with him. The incredibly lightweight EVA foam (non-toxic) is soft and squishy (Speck refers to it as 'huggable' material). The arms and legs are bendy and tough, so your child can play with the case all day long without causing any wear or tear.
2. Kayscase KidBox for the iPad Mini – "Bluey"

Ratings: (out of 5)
Protection: 5.0
Style: 4.7
Build Quality: 4.8
Overall: 4.8
Like Speck's "iGuy" case, Bluey is a free standing case that's made of the same EVA foam material that is soft, flexible and virtually impact proof. It has an ingenious design where you fold down the top handle and it becomes a stand for the iPad Mini. While not as stable as the 'iGuy' it has the added benefit of being more compact (so it can travel in a backpack), and has a raised screen bezel to prevent splashes and spills from affecting the iPad Mini's screen.
In addition to "Bluey", there's also several other colors available for this case, including: Pinky, Limey, and Orange.
3. i-Blason Kido Armorbox for the iPad Mini

Ratings: (out of 5)
Protection: 5.0
Style: 4.7
Build Quality: 4.8
Overall: 4.8
Similar in look and style to Kayscases' Bluey, the i-Blason is made of the same EVA foam material and has a handle that you can convert into a stand for two different viewing angles. The sides on this case are a little more textured for a better grip, but other than that this case is virtually identical. However, you do get more choices in colors!
Other Colors Available: Black, Green, Orange, and Pink.
See the i-Blason Armorbox Case in Action Here:
4. Otterbox Defender Series iPad Mini Case

Ratings: (out of 5)
Protection: 5.0
Style: 4.3
Build Quality: 4.9
Overall: 4.7
While the Otterbox Defender cases are not built specifically for children, they are built like tanks. The Otterbox Defender series of iPad Mini cases have three layers of impact protection: a tough outer shell, and softer impact absorbing rubberized material to surround the case, and an included screen protector. A case like this ensures that you will never need to worry about your iPad Mini getting damaged. The case has port covers to protect against dirt and moisture, and raised buttons that fit over the iPad Mini's native buttons. The case will fit neatly into a backpack as well, so it's portable.
The downside? There is no stand for the Otterbox Defender, so if you need one then you would need to buy one separately.
5. Kayscase Armorbox Heavy-Duty iPad Mini Case
Ratings: (out of 5)
Protection: 4.9
Style: 4.4
Build Quality: 4.8
Overall: 4.7
This is another case that wasn't designed specifically for children but is armored heavily enough to be able withstand a child! The colorful ArmorBox case is heavily reinforced TPU case with heavy duty protection in the corners to keep your iPad Mini safe from constant drops and shocks. It comes with a stand attached, something the Otterbox Defender doesn't have. It also has a slip-resistant grip so you can use it without fear of it slipping out of your hands.
6. i-Blason Dalmation Series iPad Mini Case
Ratings: (out of 5)
Protection: 4.4
Style: 5.0
Build Quality: 4.5
Overall: 4.6
It doesn't always have to be about which case has the most heavy duty protection. This is a cute, stylish case that has the look of a diary. It has a snap closure to keep your device secure. It supports the sleep/wake function to preserve battery life and the cover flips around to become a stand that supports multiple viewing angles. The faux leather look is stylish and frankly adorable.
Other colors available:White/Black; Blue/Purple; Pink/White
7. Zazzle iPad Mini Cases for Kids
For those that don't know Zazzle is an online printing website where you can print custom designs onto cases (including the iPad Mini). You can print your own designs (see below for tips on making designs for children) or you can choose from the thousands of designs made by artists who sell them on Zazzle. Here we'll feature just a few of them, and when you click through you can browse through them all.
Making a Zazzle iPad Mini Case for your Child:
Make a 'Return to' Note with your home address – this way if the iPad Mini goes missing at a friend's house, or school, it will make it very easy for people to return it to you.
Have a family photo or a photo of your child – it has the same function as the reason above, as well as giving your child a sense of ownership over the iPad Mini.
Print some of your child's artwork on the case – instead of pinning it on the fridge, you could scan the artwork and print it on her/his case! A great way to show how proud you are.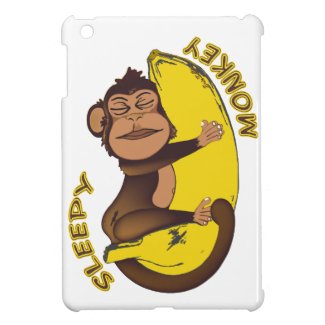 Sleepy Monkey Case For The iPad Mini by ErinKellyArt
Browse another case for the iPad Mini online at Zazzle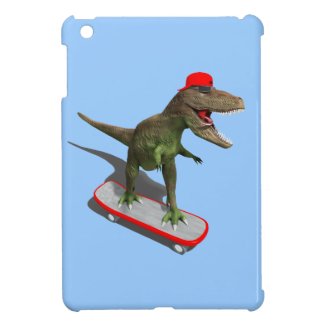 Skateboarding TRex iPad Mini Case by packratgraphics
See more Trex iPad Mini Cases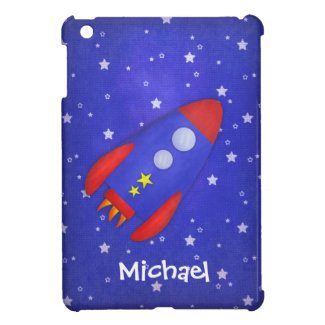 Rocket Ship Cover For The iPad Mini by runninragged
View another iPad Mini Cover online at Zazzle
iPad Mini Cases that Will Fit in your Child's Backpack:
If your child is going to school then a big EVA foam case like Speck's iGuy is a little impractical. In that case a bookcase would make more sense as it would protect the whole iPad Mini from day to day wear and tear. The Otterbox Defender comes with a screen protector, but having a cover over the iPad Mini is the safest way to prevent an errant pen or sharp object from stabbing the tablet screen.
In these cases an neoprene sleeve is an excellent way to keep your case protected while on the go. This is especially true if the case you have does not come with a screen protector of any kind. Here's three neoprene sleeves that will keep your tablet safe: